Xi3 News
NEWS RELEASE: Xi3 Corporation to Unveil TAND3M Software at CES 2012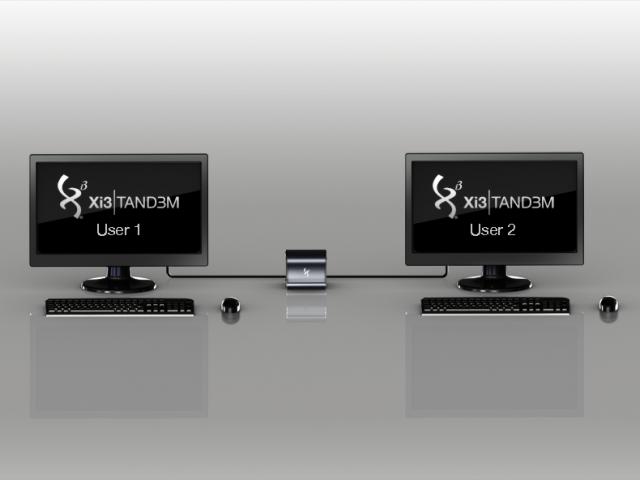 Company's first software offering allows two people to simultaneously share and use one Xi3 Modular Computer for all computing functions—surfing the Web, watching and uploading videos, producing documents, sending/receiving email and more—for only $100 more
SALT LAKE CITY and LAS VEGAS, Nev. — January 6, 2012
Xi3 Corporation today announced its TAND3M™ software application, a program that allows two people to simultaneously share and use one Xi3® Modular™ Computer for all computing functions, significantly lowering overall computing costs in the process.
The first public demonstrations of Xi3's TAND3M program will be conducted in booth #36805 of the South Hall of the Las Vegas Convention Center at the 2012 International CES tradeshow (held Jan. 10-13, 2011 in Las Vegas, Nevada).
"The Xi3 Modular Computer is already a very compelling computer, but when you buy one with TAND3M pre-loaded or load TAND3M onto an existing Xi3 Modular Computer, the entire equation changes," said Jason A. Sullivan, president and CEO of Xi3 Corporation. "By taking advantage of the underutilized resources of the Xi3 Modular Computer, the operating system and the other applications, TAND3M essentially cuts your computing costs in half—without any drop-off in performance."
To deploy TAND3M, users connect two separate monitors, keyboards and mice to an Xi3 Modular Computer. The two users then log onto TAND3M consecutively and that's it—both can now use the underutilized resources of the Xi3 Modular Computer, the operating system and the various applications simultaneously.
"Because it only needs 20 Watts to operate, the Xi3 Modular Computer is already one of the most ecofriendly desktop computers on the planet," Sullivan said. "TAND3M also increases the 'green factor' by dramatically dropping the electricity needs by 50 percent to only 10 Watts per seat."
TAND3M is slated for general availability in the first half of 2012 at a suggested retail price of $100 and will be available for Xi3 Modular Computers running either Linux or Windows. When it begins shipping, TAND3M will be available either as a pre-installed application on new Xi3 Modular Computers or as a standalone application that can be loaded by users onto an Xi3 Modular Computer they already own.
For more information about TAND3M or other Xi3 Corporation products, please visit www.Xi3.com.
About Xi3 Corporation
Formed in 2010 and headquartered in Salt Lake City, Utah, Xi3 Corporation has brought a "building block" approach to the world of computing, an approach it applies internally and externally to hardware solutions, as well as to its software applications. For more information on Xi3 Corporation (an ISYS Technologies™ company), please visit www.Xi3.com.
# # #
The shape of the three-sided single piece casing, the end plate, and the overall shape of the Xi3 Modular Computer, as well as Xi3, Modular, Xi3 Modular, TAND3M and ISYS Technologies are trademarks and unique trade dress of ISYS Technologies, Inc.